For the next 6 weeks (until the Summit!). The Summit Team will be featuring information about our accepted speakers, demos, sponsors and posters.  If you wish to be featured please email or tweet Addie
Eben Moglen will keynote this years Open Hardware Summit!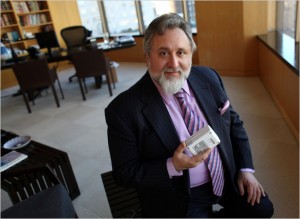 Eben Moglen is Founding Director of the Software Freedom Law Center and Professor of Law at Columbia Law School. Since 1993 he has served pro bono publico as General Counsel of the Free Software Foundation. He was awarded the Electronic Frontier Foundation's Pioneer Award for contribution to freedom in the electronic society. He was a designer and implementer of advanced computer programming languages at IBM's Santa Teresa Laboratory and Thomas J. Watson Research Center.
His writing can be read at moglen.law.columbia.edu/now
Want to come? It's not too late to purchase
tickets
or even to support Open Culture and become a
Sponsor
. We hope to see you in Cambridge in September. It's going to be an event filled with a community of awesome!